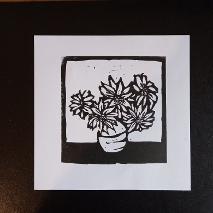 Introducing my Linocut Project
With the pubs being closed the lack of live music sessions and open mics has given me more time to return to making art. I have rediscovered linocut and have been working on improving my skills. I now have some prints for sale via my Etsy Shop
Publications 2021
I
I am delighted that my first pamphlet "Some things I ought to throw away" was shortlisted for the Scottish Publisher Dreich's Chapbook competition and will be published during 2021.Here's hoping we will be able to have book launches in real world by then.
They will also be publishing "Tam Tarrow's Journey" written by Scottish surrealist writer Douglas Thompson and featuring 22 of my prints based on the Tarot cards of the Major Arcana.
Tryst: A short sequence of almost love poems will be published Jan 2021 a a MicroChapbook by Nightingale and Sparrow Press.