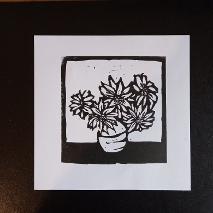 Introducing my Linocut Project
With the pubs being closed the lack of live music sessions and open mics has given me more time to return to making art. I have rediscovered linocut and have been working on improving my skills. I now have some prints for sale via my Etsy Shop
Publication News - I am delighted that my first pamphlet "Some things I ought to throw away" was shortlisted for the Scottish Publisher Dreich's Chapbook competition and will be published during 2021.Here's hoping we will be able to have book launches in real world by then.
Print Publications 2020/21
Sanatorium: A poem about my mother's time in a TB Sanatorium was published in the Anthology Glasgow: City of History, Seahorse Press, 2020 ed. Linda Jackson
Prologue: Inspired by Edwin Morgan's Scrapbooks was included in the Edwin Morgan Centenary Collection, Speculative Books, 2020, ed Colin Herd
5 new poems were included in new Scottish Magazine Dreich issue #7 lin July
The Failure Bailer a magazine that celebrates all our failures published Revision in Issue #3, out in August.
Tryst: A short sequence of almost love poems will be published Jan 2021 a a MicroChapbook by Nightingale and Sparrow Press.